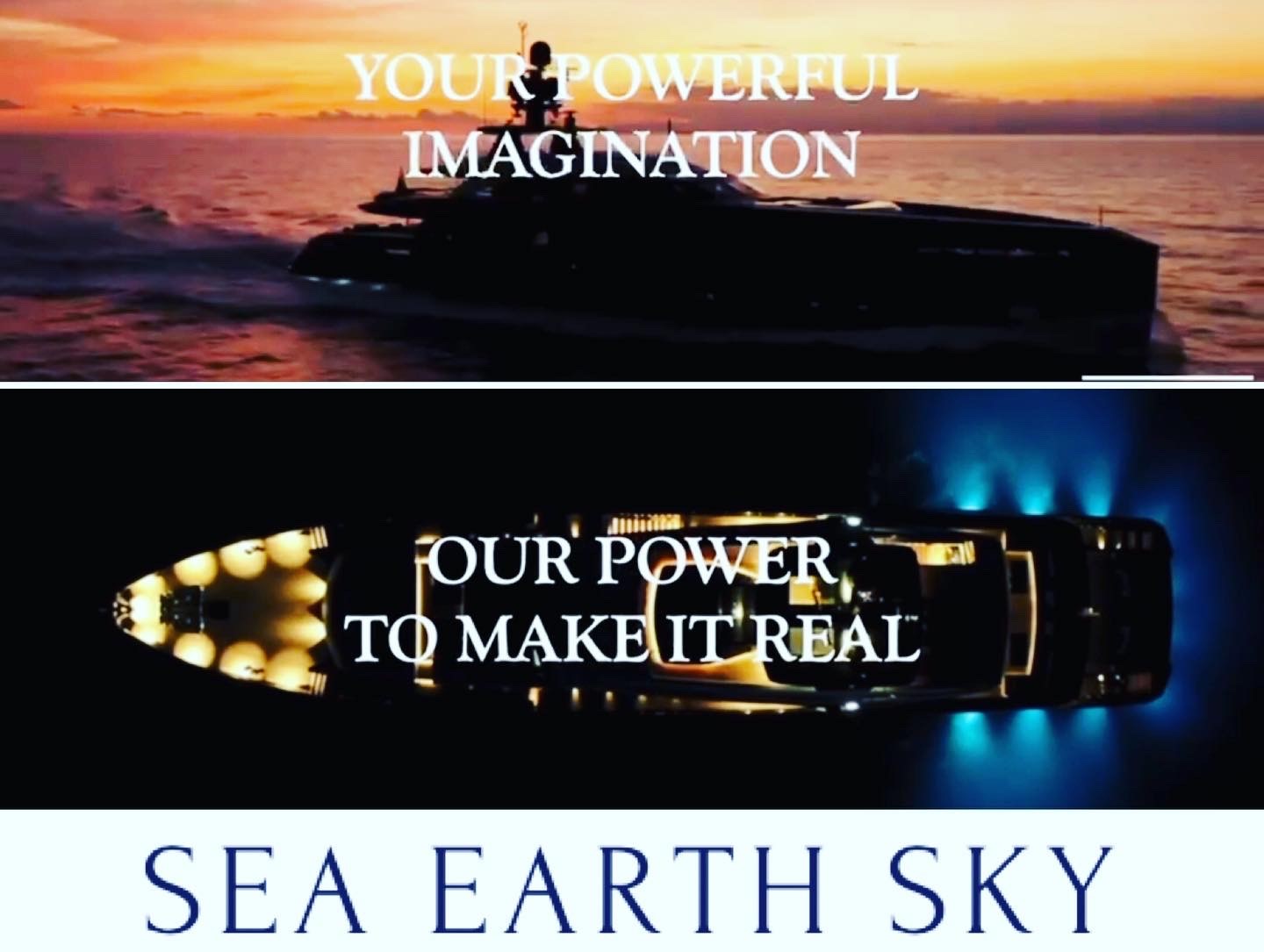 Sea Earth Sky Yacht Consulting
all'Italia Polo Challenge di Porto Cervo
21-24 LUGLIO 2021
YOUR POWERFUL IMAGINATION

OUR POWER TO MAKE IT REAL
Dopo la prima esperienza a febbraio 2021 a Cortina, l'amore per il polo e gli sport equestri ha spinto Sea, Earth, Sky-Yacht Consulting confermare la propria partecipazione all'evento di Porto Cervo come team sponsor di una delle squadre partecipanti al torneo e con uno stand che ospiterà anche partner eccezionali che rappresentano il luxury life style a livello internazionale.
Un punto di incontro, un modo per conoscere l'universo Sea, Earth Sky – Yacht Consulting e realizzare i propri sogni: l'azienda è operativa nel settore della consulenza specifica dello Yachtng in tutte le sue declinazioni e lavora con un network di specialisti che si occupano a livello internazionale di aviation, automotive, real estate, technology, arte ed entertainment.

SEA, EARTH, SKY – Yacht Consulting: NUOVE COSTRUZIONI/REFIT – CHARTER – MANAGEMENT
Scegliere il proprio buen retiro, quel luogo speciale in cui rilassarsi nella massima sicurezza e privacy, cogliendo la bellezza straordinaria dei mari più beli del mondo: un sogno che diventa realtà grazie al supporto di Sea, Earth, Sky-Yacht Consulting.
Comfort e piacevolezza della navigazione sono il fil rouge che guida la selezione di imbarcazioni disponibili per la vendita e il noleggio, con l'offerta delle migliori soluzioni per una clientela cosmopolita ed esigente.
Nella progettazione di nuove costruzioni o di refit, Sea Earth Sky – Yacht Consulting collabora con alcuni degli architetti navali e Yacht Designer più quotati e con fornitori selezionati, per lo studio e la realizzazione di soluzioni innovative ed esclusive, per dare vita alle intuizioni dei clienti.
Che si tratti di un Superyacht o di un'imbarcazione da diporto, le operazioni di verifica sullo stato dell'imbarcazione e le attività di preparazione sono svolte con la massima accuratezza al fine di garantire agli armatori una procedura corretta nella fase di acquisto e di noleggio, e, allo stesso modo, una navigazione sicura e piacevole.
Sea Earth Sky – Yacht Consulting segue i propri clienti in tutte le fasi: dalla ricerca e selezione dello yacht alla fase di negoziazione, dal primo sketch dell'idea alla selezione dei Watertoys, ed è in grado di gestire sia il post vendita ed il management.

AVIATION
Sea Earth Sky – Yacht Consulting mette a disposizione le migliori compagnie ed opportunità per il noleggio di private Jet, per tratte  di breve, medio e lungo raggio, nonché l'acquisto che la vendita degli aeromobili presenti nel proprio Network.

EXCLUSIVE AND SPORT CARS
Auto d'epoca, Ferrari, perle esclusive dei brand internazionali. auto uniche al mondo. L'affidabilità dell'acquirente, il corretto sviluppo delle transazioni, e l'ottimizzazione dei tempi sono gli elementi che caratterizzano le nostre negoziazioni.

ESPERIENZE ESCLUSIVE
Dai percorsi e degustazioni lungo i più esclusivi itinerari del vino, alle esperienze culinarie di eccellenza, ai momenti di relax in compagnia dell'iconico Sigaro Toscano, agli eventi sportivi e musicali con i propri artisti, l'azienda è a disposizione per proposte individuali su misura e per eventi privati in luoghi originali ed unici.
 I nostri Partner per il Polo :
Infinite Watertoys
Life Widgets
Bluewater
Jupitair
Life Widgets
—————————
Art For Polo: Jonathan Griffith Artist
Image & Video Partner : MF Visuals

VISITATE LA NOSTRA TERRAZZA SEA EARTH SKY – YACHT CONSULTANTS
BOX 3, ALL' ITALIA POLO CHALLENGE BAYLANDI CUP 2021 di PORTO CERVO
Dove : Campo Sportivo Andrea Corda di Abbiadori.
PER APPUNTAMENTI:

DANILO MAGNISI
+39 327-9765567
 dmagnisi@seaearthskyachtconsultants.com 

NATALIE HEDLEY-FORD
+33 6-46068297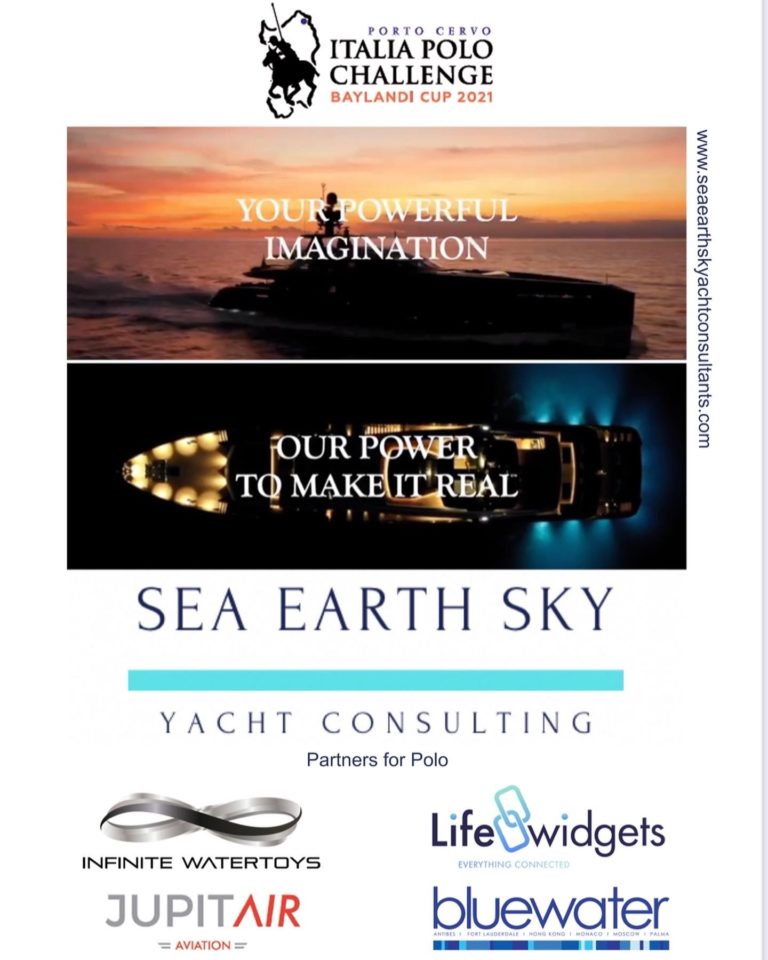 Sea Earth Sky Yacht Consulting
at italia Polo Challange Porto Cervo
21-24 JULY 2021
YOUR POWERFUL IMAGINATION
OUR POWER TO MAKE IT REAL

After the first experience in February 2021 in Cortina,  love for polo and equestrian sports pushed Sea, Earth, Sky Yacht Consultanting to confirm their participation in the Porto Cervo event as team sponsor and with a stand hosting exceptional partners representing luxury life style at an international level.
A meeting point, a way to get to know Sea, Earth Sky – Yacht Consulting world,  and make your dreams come true: the company fully operates in the sector of yachting consultancy  and works with an international network of specialists in aviation, automotive, real estate and entertainment.

SEA, EARTH, SKY – YACHT CONSULTING: YACHTING: NEW BUILD / REFIT – CHARTER – MANAGEMENT
Choose your own retreat, that special place you would love to relax with top safety and privacy, capturing the extraordinary beauty of the most beautiful seas in the world: a dream that becomes reality thanks to the support of Sea, Earth, Sky – Yacht Consulting.
Comfort and pleasure of navigation are the common thread that guides the selection of boats available for sale and rental, offering the best solutions for a cosmopolitan and demanding clientele.
In the design of new builds or refits, Sea Earth Sky – Yacht Consulting collaborates with some of the most renowned naval architects and with selected suppliers, for the study and implementation of innovative and exclusive solutions, to give life to customers' intuitions.
Whether it is a superyacht or a pleasure boat, the survey on the condition of the boat is carried out with the utmost accuracy in order to guarantee the owners a correct purchase and rental process, and, in the same way, a safe and pleasant navigation.
Sea Earth Sky – Yacht  Consulting follows its customers in all phases: from the research and selection of the yacht to the negotiation phase, and is able to manage the after-sales and the actual management of the yacht.

AVIATION
Sea Earth Sky- Yacht Consulting provides the best opportunities for the rental of private jets, for both short, medium and long haul routes, as well as for the purchase and sale of aircrafts.
EXCLUSIVE AND SPORT CARS
Vintage cars, Ferrari, exclusive pearls of international brands. unique cars in the world.
The reliability of the buyer, the correct development of transactions, and the optimization of times are the elements that characterize our negotiations.
EXCLUSIVE EXPERIENCES
From itineraries and tastings along the most exclusive wine itineraries, to culinary experiences of excellence, moments of relax in the company of the iconic Tuscan cigar, from sporting and musicl events, the company is available for individual proposals  and for private events in original and unique places.

VISIT OUR TERRACE

Booth, Box 3, At the Italia Polo Challange Baylandi Cup Porto Cervo
Andrea Corba Sports Field in Abbiadori.
FOR APPOINTMENTS:
DANILO MAGNISI
+39 327-9765567
dmagnisi@seaearthskyyachtconsultants.com
NATHALIE HEDLEY FORD
  +33 6-46068297
natalie@bluewateryachtinng.com

Sea Earth Sky – Yacht Consulting, the power of your imagination
Our Partners for the event:
Infinite Watertoys
Bluewater
Jupitair
Life  Widget
————————— 
Art For Polo: Jonathan Griffith Artist
Image & Video Partner : MF Visuals